The last couple of months were quite boring looking at the Bitcoin price, but periods of very low volatility usually are very likely followed by a significant price move (up or down).
Two days ago the long-awaited Bitcoin pump arrived, and it was huge! About 20% price surge in a matter of minutes.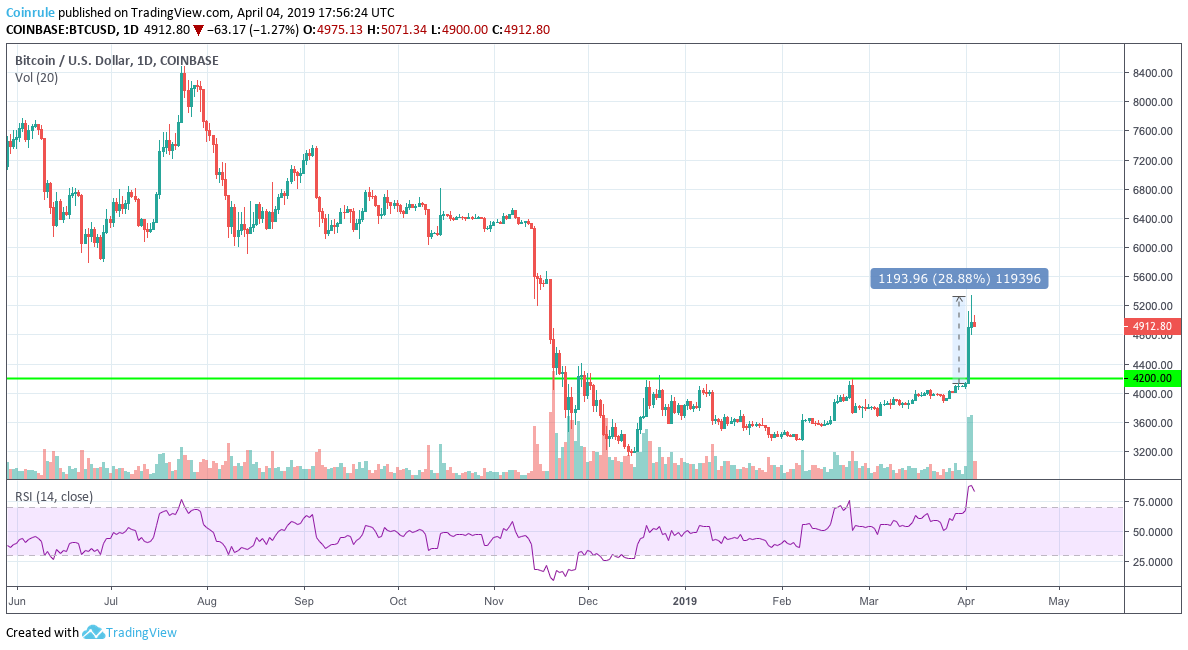 That massive event left me with mixed feelings. On the one side, the enthusiasm for what could represent a clear sign of the shift in the overall mood of the market and the end of a prolonged bear market for cryptocurrencies. On the other side, though, my portfolio of altcoins denominated in BTC-terms became suddenly mostly red, even if it was still very green considering the USD value.
The Bitcoin price spike led to a broad sell-off among almost all other altcoins that in those first hours underperformed significantly "king-BTC".
If we compare the price of BTC with the aggregated price of all other Altcoins, you can clearly notice how all other coins struggled to rise as sharply as Bitcoin.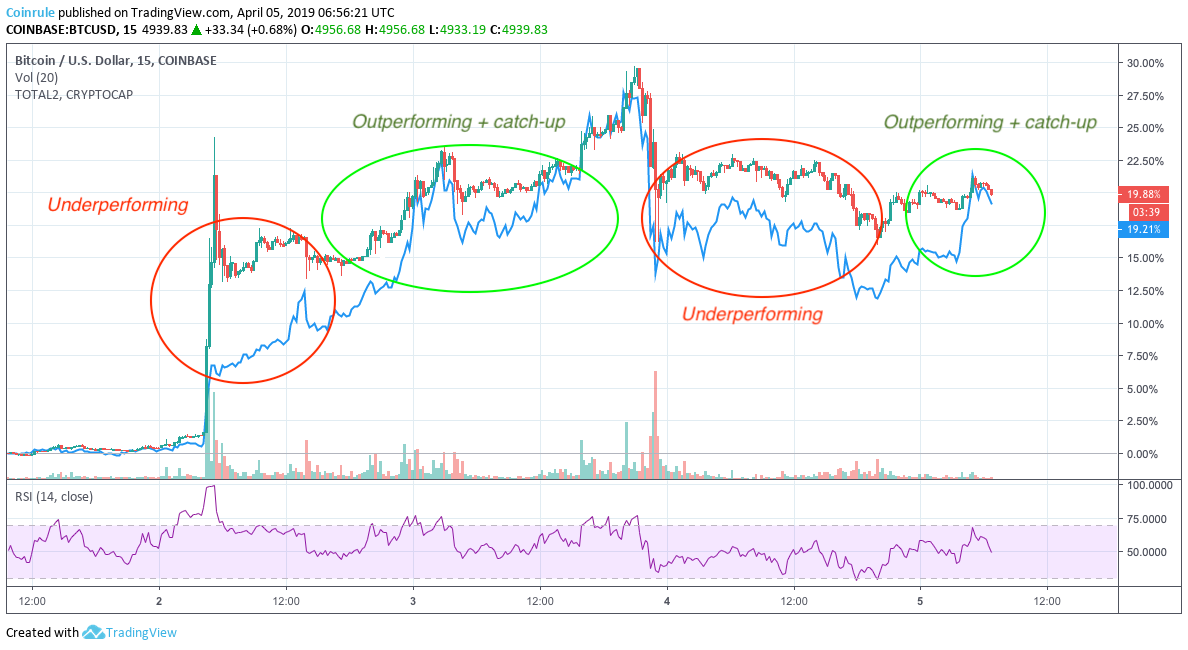 You can also compare the different path that different coins had.
The Ethereum price is still lagging Bitcoin, which in my view is not a good indicator of its underlining strength, so I prefer to look for other coins to buy until this pattern reverts.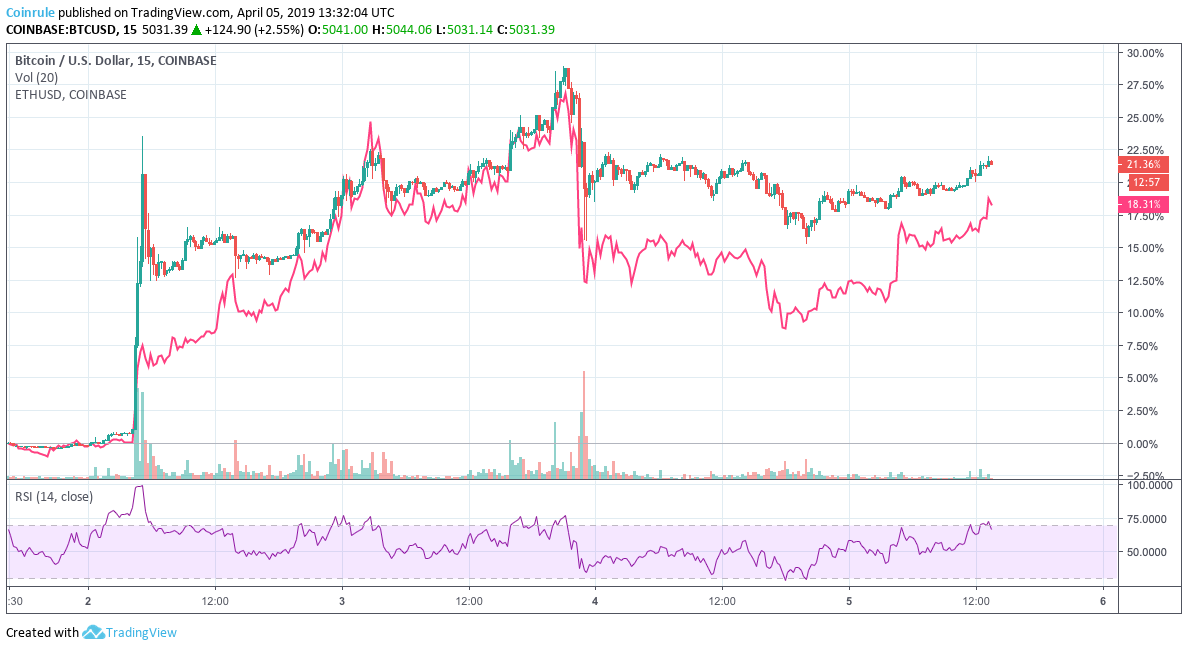 On the contrary, Litecoin paired the initial underperformance in a few hours and started to outperform Bitcoin significantly. It's worth to remember that Litecoin has been showing a firm buy pressure for weeks now. As long as this tendency persists, buying LTC will offer a better risk-reward profile than many other coins on the market.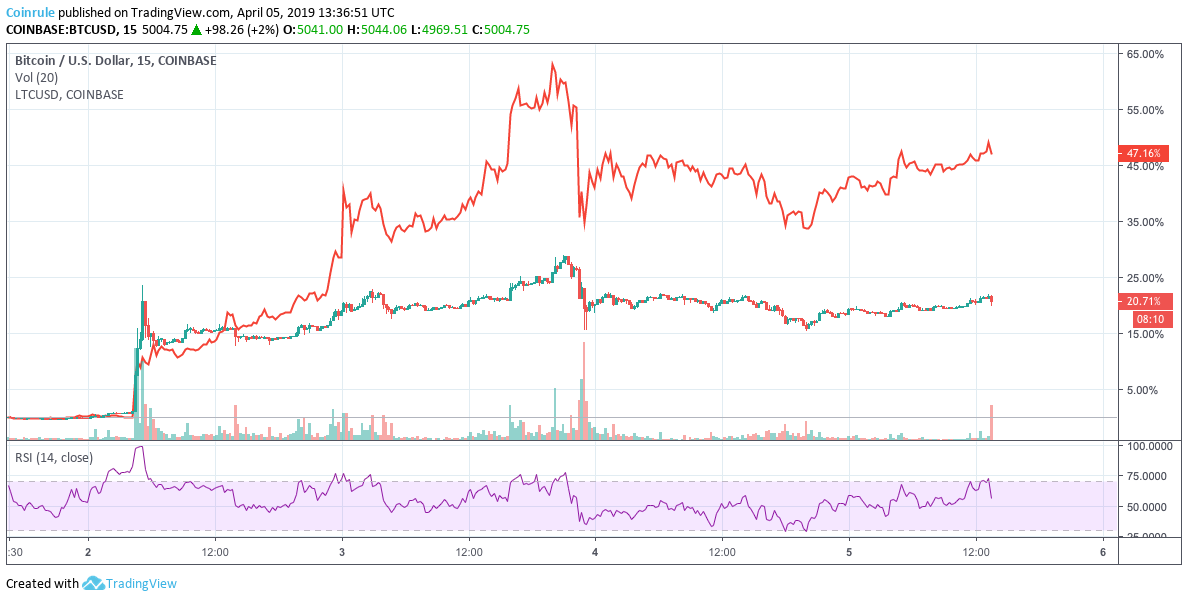 In general, these are very important considerations that can help you take your trading decision and improve your returns. In particular, one evidence we could take analyzing these charts is that to experience a sustainable uptrend, Altcoins need a period of low volatility on the Bitcoin price, just like we had in the past two months.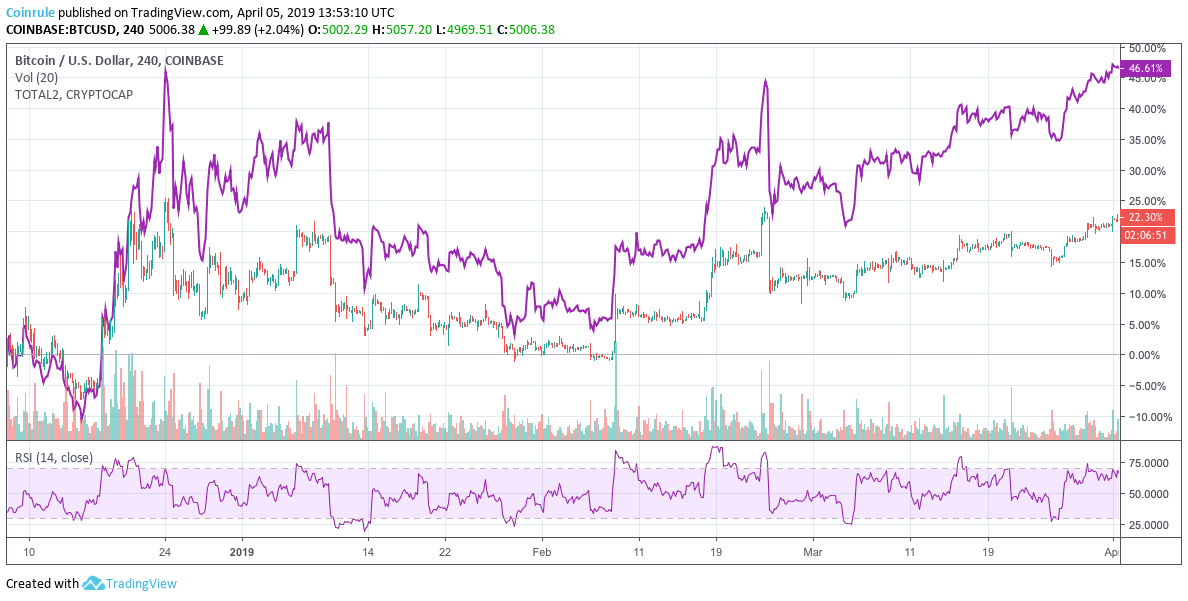 The main question now is, where are we going from here? Is another Altseason coming?
In my opinion, one of the most important charts in the crypto market at the moment is the percentage dominance of BTC over the rest of the coins in the market. It's crucial because it shows that the market could be at the crossroad. During the crypto winter, the dominance rose significantly (Altcoins underperformed BTC), but this trend started to revert starting from the beginning of 2019, almost perfectly matching a historical downtrend in the market dominance that comes from the past bear market of 2014.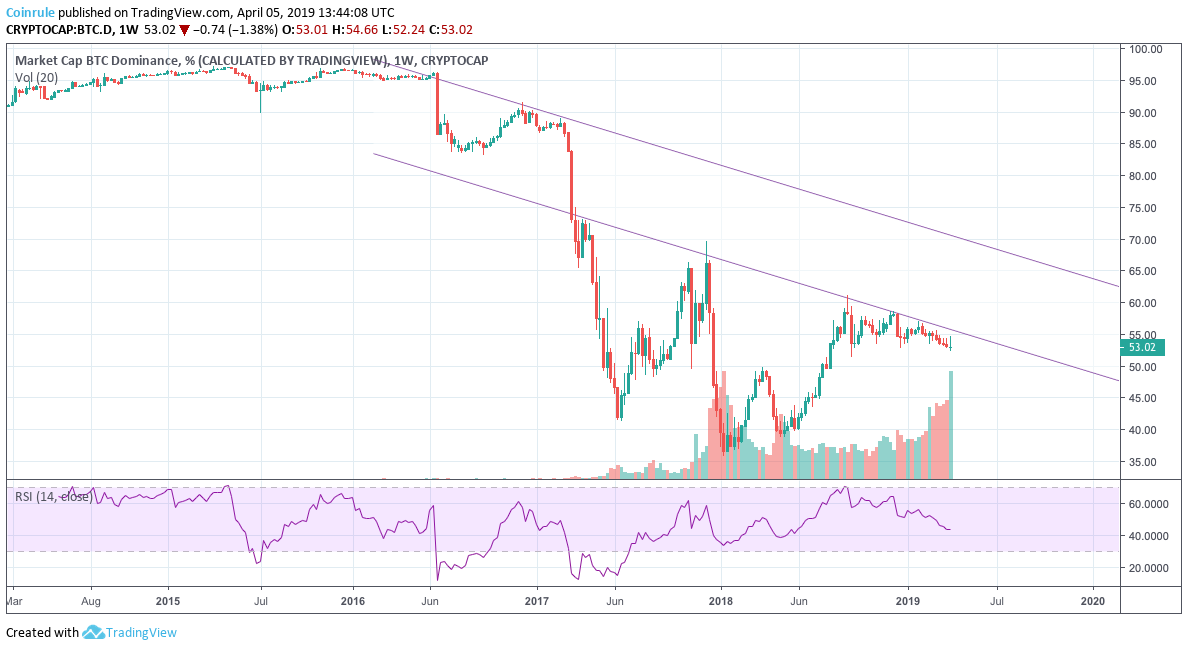 This technical observation could find a confirmation in the fact that many projects are expected to start to deliver significant results in the coming months and years. So it's safe to assume that the dominance should be theoretically pushed down once again when the new bull cycle will come.
We are moderately optimistic about the future of Altcoins, and a diversified portfolio across different promising project can return very interesting profits. If you think that a favorable time to buy Altcoins is approaching, you can easily set up an accumulation strategy with Coinrule.
First, choose the exchange where you want to run your rule, and then select when you want this rule to run. So for example, let's say you want it to run every day.
At this point, here you have three options:
to select one specific coin
to select any coin available on the market. Consider that you can also add an additional filter, for example, to exclude all coins below a specific market cap
to select any of your coins. In this case, you will avoid adding undesired coins to your portfolio.
One strategy could be to accumulate coins taking advantage of their temporary dips to buy at convenient prices. You can set up a rule like this one here:

Of course, all the parameters can be customised to meet your own needs and preferences. You can see how easy it is to create and set up your automated trading strategy right there.
Create now your own role and let us know if you have any questions or have any especially exciting rules to share!
Follow us on Twitter and Telegram for daily updates and new trading ideas!
TRADE SAFE AND DO YOUR OWN RESEARCH – THIS ARTICLE DOES NOT CONSTITUTE ANY FORM OF INVESTMENT ADVICE!