As we move forward into 2020, the feeling is that the market is going up thanks to broad though so far still mild optimistic sentiment which investors have been craving for a long time. 2020 could really be the year of a new Crypto Bull Market.
2018 and 2019 have been very tough years for traders. Across this time, only during three months, the crypto market has traded in a clear uptrend, between April and June 2019. Traders and investors have been depressed for so long that many threw in the towel, giving up. You need solid management of the risks involved and of your emotions to survive such difficult conditions.
Are you still here? Do you still trade Crypto? Do you still think that Bitcoin is here to stay?
Well, kudos to you! You survived the longest crypto bear market so far, so you well deserve the best from the coming Bull market.
They say that what doesn't kill you makes you stronger. That applies to Biology, Business, Financial Markets and for sure also Crypto.

2017 attracted traders whose only goal was to get rich quickly. They became greedy and got trapped buying the top, instead. But their biggest fault was not to have experienced the previous bear markets. More experienced traders knew that it takes years to reach the top, and it could all burst in a matter of days.
Treasure your experience because this will represent a valuable edge you will have on those that will approach trading crypto for the first time in the coming months.
On the other hand, if you are one of those making the first steps into Crypto, here are some advises and trading tips you will find useful.
Are we already in a Crypto Bull market?
There are many technical signs pointing at Looking at the Bitcoin chart from the lows in December 2018, we can clearly recognise an initial phase of accumulation, a sustained and rampant uptrend ignited from the breakout of the critical resistances at 4000 and 6100 USD, and a prolonged downtrend from the local top at 14000 USD.
The price retracement started in July 2019 is a shakeout for all those that FOMOed the first breakout in April. Nevertheless, the price didn't even come close to where the price was in March, and barely reached the previous resistance at 6100 USD. This is significant proof that we can still safely assume that a new crypto bull market started in April and that this cycle is still going on on the right path.
Is this an Alt-Spring?
When it comes to the broad Altcoin market, it feels like it is still at an earlier stage of the cycle than Bitcoin. On average, the price of most of the Altcoins lagged significantly, especially during the second half of 2019, but that also means that the margin for potential price growth is larger. In particular, some coins looks solid both from a price and fundamental perspective.

Here you can read more about our favorite coins in 2020.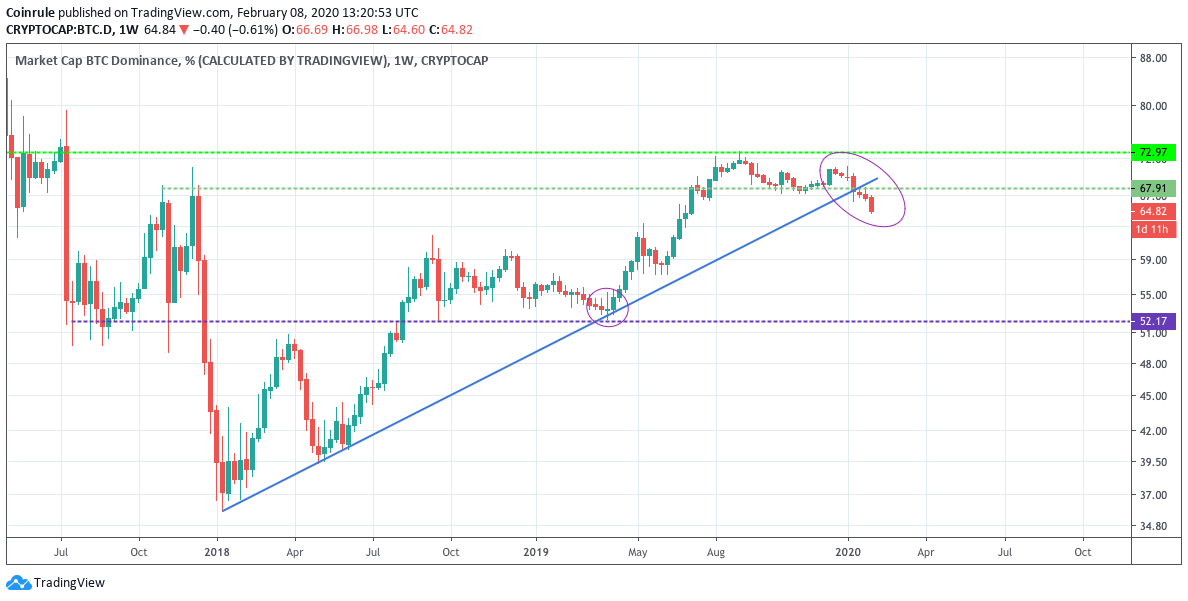 The Bitcoin dominance broke below the trend line that starts back from the top of the previous bull market in January 2018. This signal represents a fascinating clue of what will likely come next. As soon as the price momentum for Altcoins consolidates, and traders and investors gain confidence in the trend, that will ignite a heavy buying pressure. This fear-of-missing-out will be fuelled by three main elements.
all those that sold suffering significant losses now will try to avoid buying back at higher prices. As the price will move up increasingly faster, unfortunately, many will be forced to buy back at sub-optimal prices.


new-comers will be tempted by the great potential for price growth and quick gains. This high confidence in a sustainable uptrend will make them less price-sensitive and therefore willing to pay higher prices.


Fewer sellers will be available on the market. Price resistance will be weaker as no many sellers will be willing to trade. As the price moves sharply higher, there will be more incentive in buying than in selling. Less offer of coins and stronger demand are the perfect ingredients for a crypto bull market.

When MOON?
All that said, making profits in a crypto Bull market is probably easier than during a bear market, but that doesn't mean that everything will be smooth and chill.
The idea that Cryptocurrencies will reach the moon finally, using more appropriate trading jargon, means that the price will reach the target of this market cycle. That will allow traders to cash out their profit, quitting their job and retiring on tropical beaches sipping margaritas. Unfortunately, that is pure utopia!
Even during the most optimistic phase of a crypto bull market, the temptation of selling to secure the profit will be strong. Price shakeout and sudden dropdowns will be scary, and that temptation will push you to sell. It's always worth noticing that during 2015 and 2017 the price of Bitcoin dipped over 30% 6 times between 2015 and 2017 while surging around 900% over the same period.
Selling is a savvy approach, also during a strong uptrend. All you need to do is to plan when to do it in advance, so you don't need to rush into fire-selling when conditions are not optimal. Building an automated trading plan can help you with that.
Excluding the emotional elements from your trading plan can only improve your results.
Enjoy the ride!
Also, take profit periodically on your gains. It's the right way to manage the risk of your portfolio during a crypto bull market. You can reinvest later in times of price drop or simply cash out to repay some debt or invest in other assets.
The most important thing to keep in mind is the amount of your investment you are going to sell. Based on your risk-aversion and needs, schedule in advance the amount of the capital exposure you want to keep investing in Crypto and how much, instead, periodically you want to sell when specific price targets are reached.
Never forget that the more you stay invested in Crypto without selling, the more the amount of overall gain will grow thanks to the compound effect. At the same time, there is more risk of remaining stuck with a relatively large bag of coins whose price dropped too quickly to allow you to realise some profit on your position.
Quite interesting time await Crypto traders in the coming months. The market will provide great opportunities to those that will be ready to catch them. Read here about five more trading tips about how to get the best of a Crypto bull market.

You can put in practice these trading tips building an automated trading strategy with Coinrule. Create your rule now!

Trade safe!