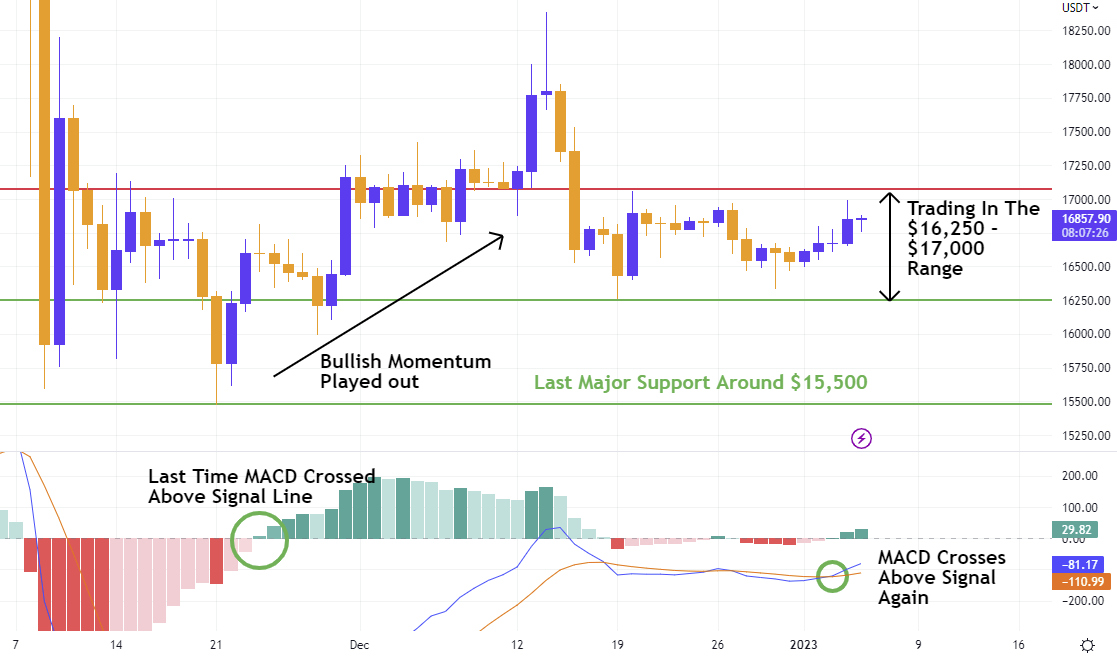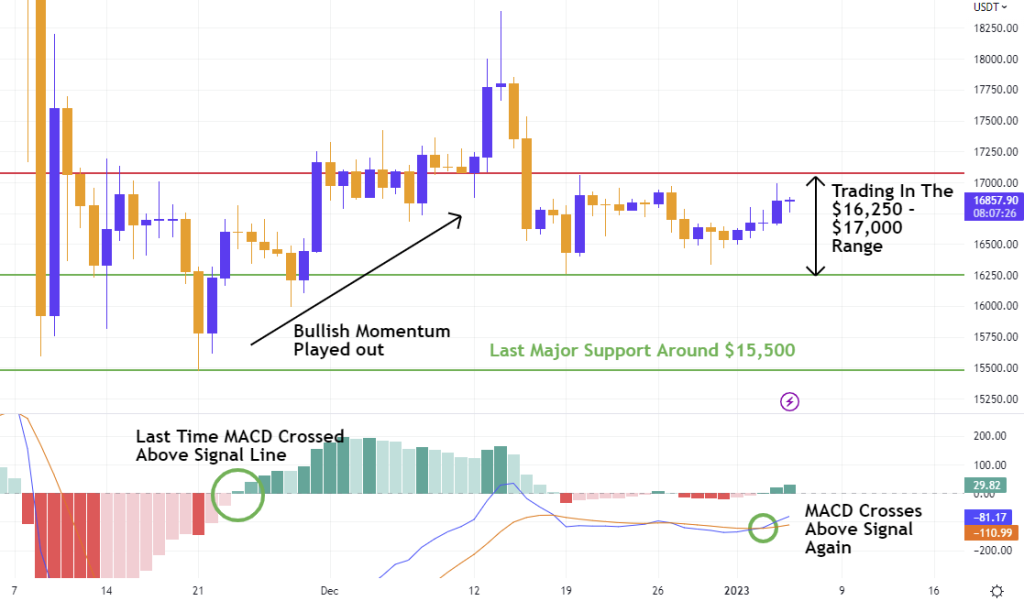 The past two weeks have been largely uneventful as the market has seen a sustained period of low volatility and Bitcoin has been trading between the $16,250 support and the $17,000 resistance.
From a technical perspective, the MACD indicator just crossed above its signal line. The last time this happened, the market saw a short-term increase in bullish momentum. Bulls will be hoping this momentum can play out and bitcoin can finally break above the $17,000 level and reach new range highs. Bears will be looking for a break below $16,250 which would only leave $15,500 as the last major support before $14,000. The RSI has still remained relatively neutral and has not provided any major support for either potential scenario as of yet.
There has been an ongoing conversation as to whether the market will see an 'echo bubble' (a post-bubble rally that results in another, smaller bubble) in 2023. The spread between market expectations for a Fed pivot in H2 2023 could build expectations which might give confidence to the bulls. This is supported by the Federal Reserve recently starting to temper rate hikes from 75bps increases to a 50bps hike. However, there is evidence that markets tend to bottom after the Fed makes its pivot, not before. This would strengthen the case that we have not yet reached the lows of this current bear market.
Another major event giving traders food for thought is China's opening up from COVID restrictions. Will this prove inflationary for the world economy and potentially undermine the effect of rate hikes as Chinese citizens rush to spend money after 2 years of lockdowns? The impact of these events is worth following closely.
Whether the market sees an echo bubble or not, one event that will have a major bearing on short-term market direction is the January 18th announcement on CPI inflation. Many traders will be looking for inflation to come in soft as this will grant risk assets, such as bitcoin, some relief whilst simultaneously causing the dollar and bond yields to fall. Regardless of what inflation comes in at, traders will want to exercise caution in leveraged positions at this time as volatility will most certainly be high around the announcement.
Check out the chart on TradingView here.