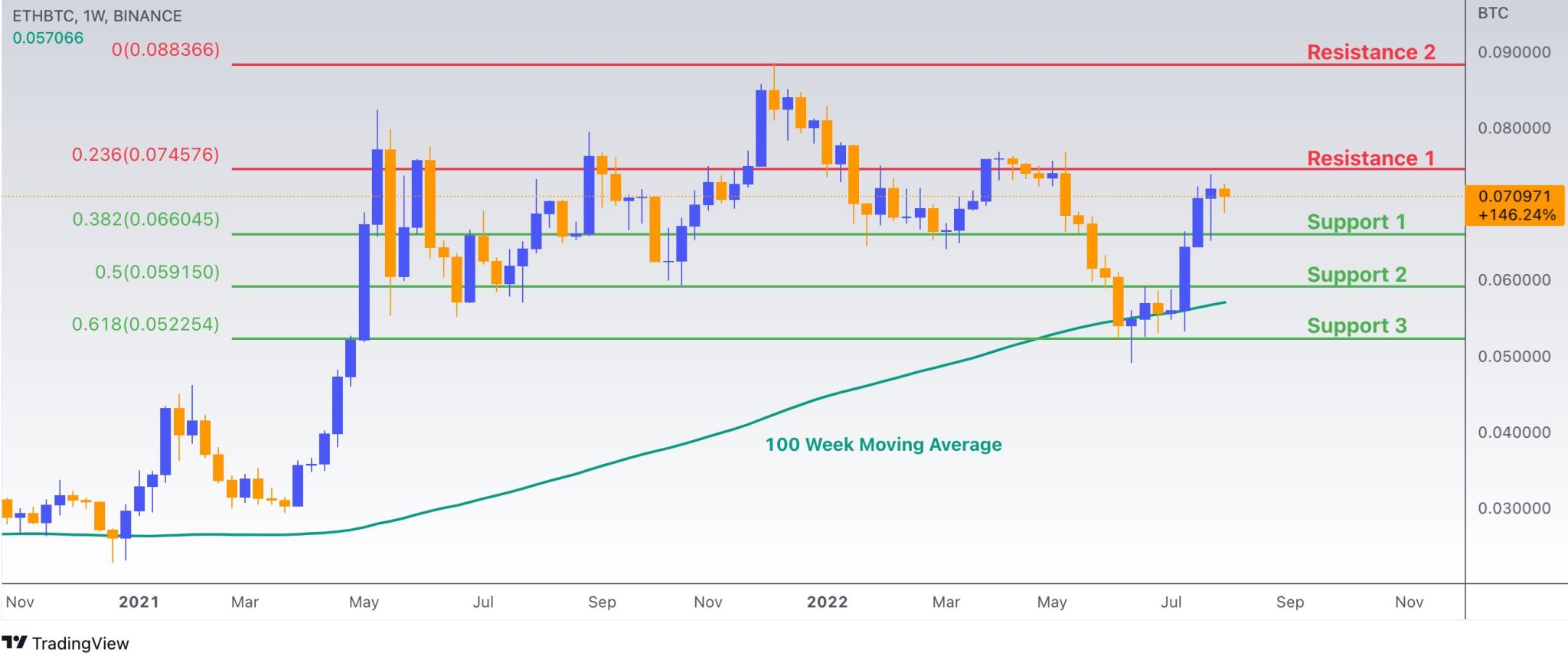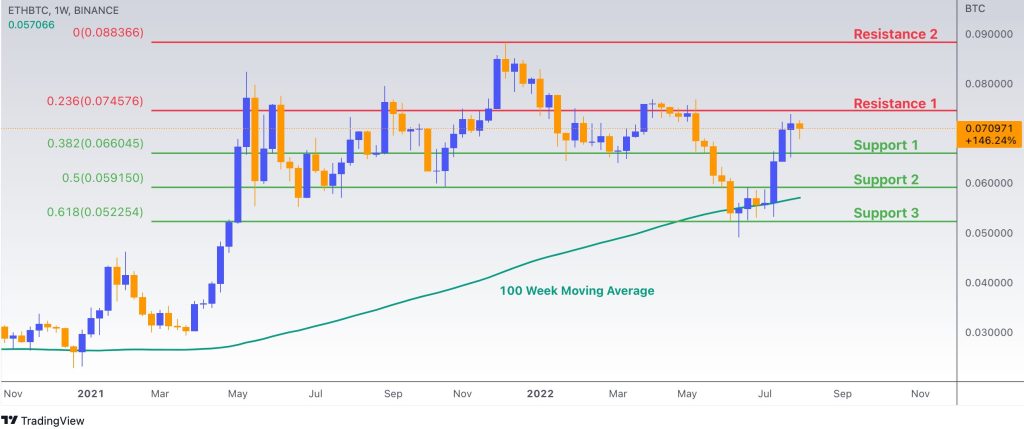 July was a reassuring month for crypto, and financial markets in general, stimulated by the Federal Reserve deciding a 0.75% rate hike was sufficient to slow inflation. They also stated the 2.25-2.50% federal fund rate is now neutral – no longer contributing to growth or contraction within the economy. This caused markets to rally on the expectation there may not be many further rate hikes and the possibility the worst may be behind us.
Last year, July marked the bottom of the summer correction and the start of the rally that resulted in new all-time highs. This year, July saw a 16.6% monthly gain for bitcoin – the highest monthly gain since October 2021. This was outshone by ether's monumental monthly gain of approximately 57% – the largest since January's 2021's 78% gain and the fifth best month over the past 5 years. The ETH/BTC chart conveys this spectacle well. Ether appreciated by 28% against BTC since the start of June – demonstrating the increased upside Ethereum has compared to its larger counterpart.
However, last week it was Ethereum Classic (ETC), that saw the greatest gains. ETC saw a 94% surge within 4 days, with price still trading within 20% of the high. It is suspected this was caused by The Ethereum Merge that will result in Ethereum moving from proof-of-stake to proof-of-work (POW). This will render the Ethereum miners' expensive equipment, used to solve the mathematical puzzles used in POW, obsolete and the miners' $18 billion annual revenue disappearing. On the other hand, Ethereum Classic will remain proof-of-work, driving Ethereum miners to potentially put their equipment to use securing the Ethereum Classic chain. However, Ethereum Classic's mining revenue amounts to only 3% of Ethereum's.
AntPool, one of the largest mining pools and an affiliate of Bitmain, a large mining equipment manufacturer, announced it would invest $10 million to develop and create new applications on the Ethereum Classic ecosystem in an attempt to increase the adoption of the blockchain, and the sales of their rigs. Bitmain also stated they will accept payments for their machinery in ETC. Will Ethereum's fundamentalists win? On August 2nd, ETC total value locked (TVL) sat at $230,000 and transaction volume was $162 million compared to ETH's $57 billion TVL and $3.8 billion transaction volume. The loyalists will require some serious network effects to capture any market share.
Fidelity has stated that bitcoin will be the only 401(k) crypto product they will offer with a 20% allocation limit per portfolio. It could be argued that this is a huge step in the right direction with a behemoth asset manager, such as Fidelity, believing bitcoin is a suitable product for retirement plans. On the other hand, it also demonstrates the rest of the space is generally regarded as unproven and untrusted. This opinion was echoed by three anti-crypto American senators this week who deemed Fidelity's move to include bitcoin as "immensely troubling".
Institutional hesitancy towards altcoins can be understood when considering institution's risk aversion. The nature of the nascent crypto space where the "build fast and break things" approach, which can sometimes be taken advantage of, is also a hinderance. Incidents such as the $190 million exploit on popular token bridge Nomad that occurred this week is case in point. Solana also experienced issues this week with popular Solana wallets, Phantom, Slope and Trust Wallet, being exploited with their users' funds being drained from over 8,000 wallets.
After the collapse of CeFi and now these breaches on hot wallets, crypto asset security has become an even bigger priority for all crypto users. Ledger, the popular hardware wallet provider, has perfectly timed its rumoured discussions of seeking to raise an additional $100 million in funding. It is rumoured the round will be at a higher valuation than their previous $380 million raise at a $1.5 billion valuation last June – showcasing the growing demand for protecting crypto wealth even during this market downturn.
Thankfully, resistance to change can provide profitable opportunities as the herd stays away from "risky" assets. Howard Marks details in his investment bible, "The Most Important Thing", that the highest risk-adjusted returns are obtained when buying assets that are considered "not fully understood, fundamentally questionable on the surface, controversial, unseemly or scary, deemed inappropriate for "respectable" portfolios or recently the subject of disinvestment". We wonder what asset class meets these criteria…
Build rules and automate your ETH/BTC trades now using Coinrule! (https://coinrule.com/)