Coinrule not only allows you to create your automated trading strategies, lowering the cost of employing advanced tools for your trades significantly. Thanks to Coinrule you can give to your trading plan specific rules and easily stick to them. No emotions or other bias coming from the evolving market conditions will affect your trades!
In this article, we described in details what are the best tips to manage the cycle that started in the crypto market in April. Everyone was waiting for the Great Bear market to end, but most realized that also trading in a Bull market is not that easy as it seems.
For each of the tips, I will explain how Coinrule can help you improve your trading experience.
Buy LOW, sell HIGH
Reacting promptly to fast price moves, both up or down, can be very difficult and requires spending a lot of time in front of a screen ready to send out the order. With Coinrule, you can create a strategy to automatically sell or buy coins when the price drops or rises significantly. You only have to select what are the parameters you are looking for and Coinrule will trade for you.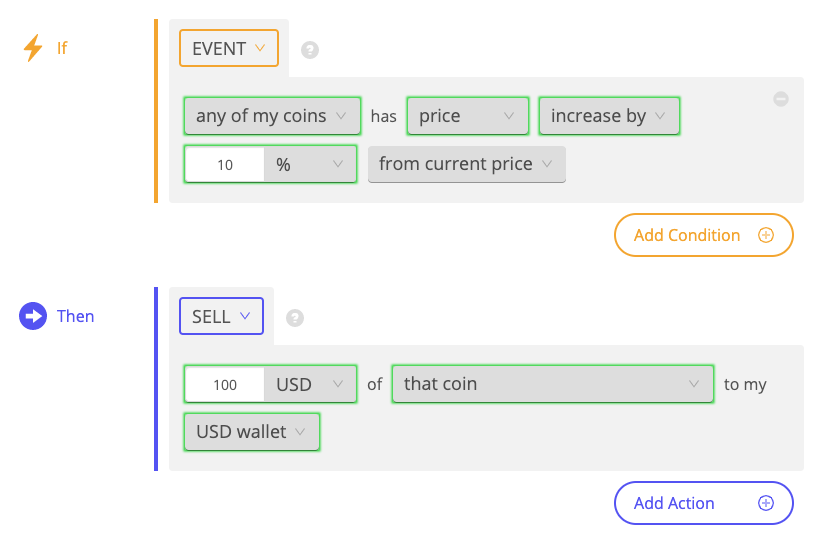 Sometimes cryptocurrencies are very volatile, so there can arise great buying or selling opportunities on your coins. Whether it's about accumulating your favorite coins or taking profit on a position, the best approach is to plan the strategy and let the bot execute it immediately on the market.
Look at the big picture
With Coinrule, you can set up the time frame that fits better your trading strategy. You can schedule orders up to once every four weeks so that you can plan a very long-term accumulation strategy.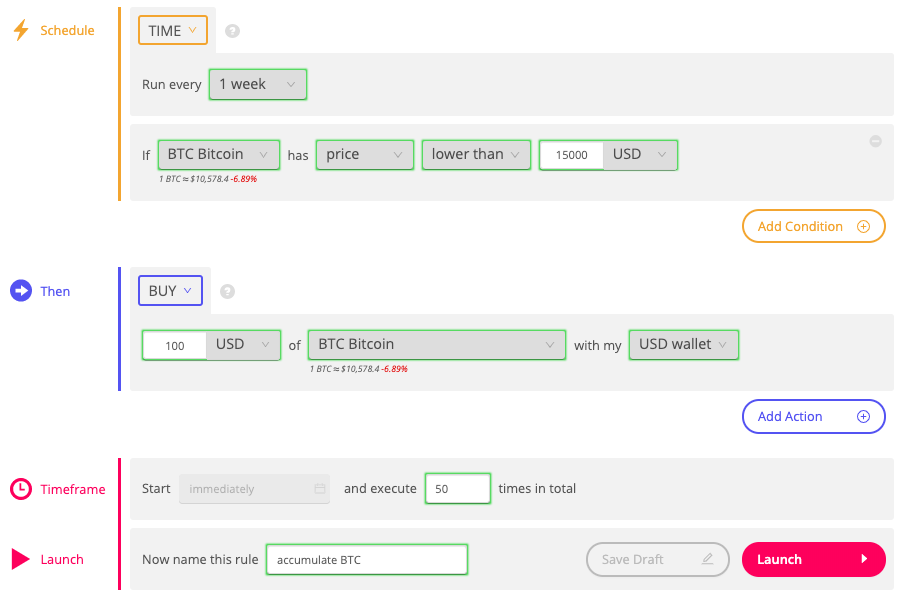 Before launching your rule, you can define how many time you want the rule to be executed. The maximum number of times the rule can is 10000, that means that you can plan your strategy for a long-term time horizon without worries.
Discipline! Discipline! Discipline!
Well.. when you give to your trading strategy the right RULES, this will bring discipline into your method, and the results will improve significantly.
The size of the order, for example, is an essential component of your trading plan. The size of the order has a direct impact on the risk of your trade. Sometimes you can be tempted to increase the amount to buy as your confidence in the trade is high. Wrong! Overconfidence is one of the most dangerous mistakes a trader can do.
With Coinrule, you can define the USD value of the order or limit the amount as a portion of your available funds. In this case, if you are selecting the BTC wallet and a setting a certain percentage to buy, the algorithm will calculate the amount accordingly.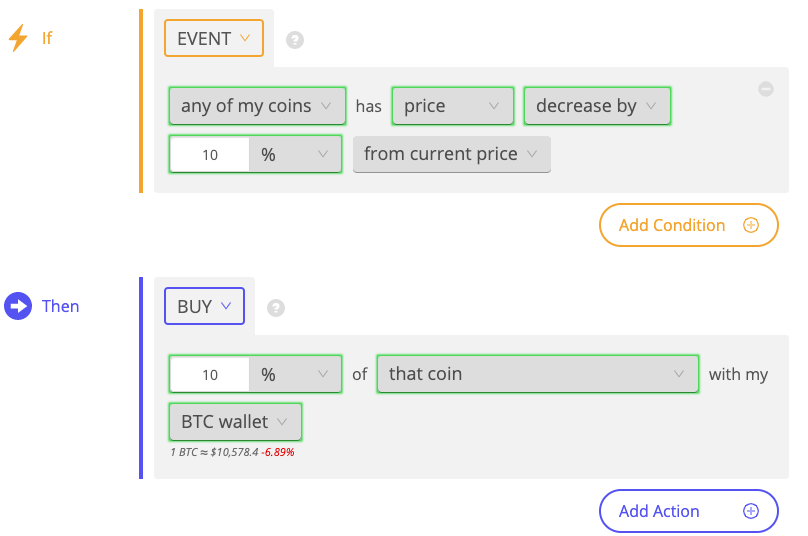 Don't get Enchanted by Mermaids
Adding new coins to your portfolio is very appealing. Every time you discover a new coin with high potentials and a disruptive business model, you would like to catch that opportunity. Unfortunately, we know that only a small percentage of cryptocurrencies survive in the long term, especially among those that are relatively at an earlier stage.
Of course, adding new coins to the portfolio brings more opportunities and increase diversification, so it's not a bad strategy in general. You should always perform your due diligence and research.
Coinrule allows you to trade only those coins you already own in your wallet. In this way, you don't run the risk to buy some shitcoin and regret it later! You have full control of the asset that the algorithm trades.
Be ready to get bored, or NOT!
The more boring is for you to buy and sell your coins, the more you are detached from your emotions, and that will increase your profitability.
On the other hand, trading, in general, shouldn't be boring! Coinrule adds the "healthy" entertainment to your activities.

You can always test new strategies with our Demo Exchange and soon with our Backtesting tool. You can share your strategies and returns with our Trading Community. We are also planning to introduce challenges and competition that will aim to learn more about trading and increase your skills!
Stay tuned and
Trade safe!