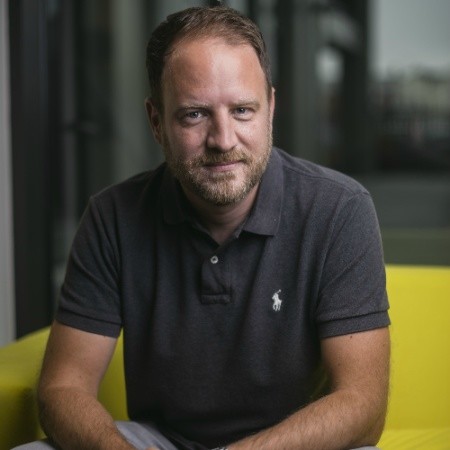 One of the things we care about the most at Coinrule is our users. We like to engage with them. Their personal and subjective point of view often provides very insightful feedback that we take into consideration for the development of new features or improvement of those already available.

Here is a conversation we had a few days ago with Chris Haslam. We met Chris last year when our alpha version was not even released yet. We can say that he saw Coinrule from the very first days.

Ruben
Hi Chris, thanks for joining me today at Coinrule! First of all, I would like to ask you about your background and how you got into crypto.
Chris
I first bought Crypto in 2014 and was experimenting with mining on Cloud providers and had some automation using AWS spot pricing, so was fairly early when I look back.
Crypto then went into a large bear market, and if you think Cryptocurrency feels 'early' now imagine how it felt then when coins were struggling to find much utility or volume. I remember looking at my portfolio during 2015 and it being effectively worthless, and the top 10 on Coinmarketcap then looked very different!


During the same time the business I was running had made the Deloitte Fast 500, so being honest I didn't have the time to juggle both. I later invested in a range of companies, including the first round of Monzo and Ignite's first programme in Manchester so got some exposure to different types of investing like seed rounds.

I got back into and more involved in the crypto space in 2017 and during that time I also had a daughter so I often found myself doing the night shift. This actually worked out well, despite the Crypto market never closing like traditional markets the daily candle close often had bigger movements and price action at 1 am.

During these busy times I was involved in a few communities, that have a good intersection of open source, forex, accounting and other backgrounds who seem to generally complement and help each other.

In 2018 I went fully down the rabbit hole and spent the year full time in Crypto. I've automated masternodes using Docker for Odin, a privacy-focused chain and since joined their Governance team. I made some open source contributions and attended various Crypto meetups and conferences.   

When you're learning about new tech, open source, economics, cryptography and markets it almost feels like going back to uni in terms of learning levels. Combine that with an extremely volatile market, it's definitely up there as one of the hardest things I've worked in so far.
Ruben
How did you find Coinrule?
Chris
I found you on AngelList. We had a conversation, and I like the idea. Also during my daily life, I use some services involving the IFTTT logic.
I've been working on automating as much as possible of my various Crypto strategies, but it's not an easy task and can take several years to perfect so was looking at other options.
I liked the idea behind the project. I'd always like the idea of 'if this, then that' for Crypto after using similar services for home automation i.e. "if the alarm goes off, turn on the lights".
A cryptocurrency trade can be broken down into something simple and similar, 'if this event happens, buy this coin' which could be a trigger like volume, or maybe some other source like 'John Mcafee on Twitter'
Ruben
I loved the part where you say that a 24/7 crypto market perfectly fit the "Daddy-duties", being able to trade during night hours it's a very interesting way to optimize your day, this is an excellent point!

And I would also like to underline your smart timing. In 2015 you got out from a sluggish market and decided to invest in projects with a higher potential return. Speaking of that, I wanted to show you a chart that I came across the other day reading an article from Reuters.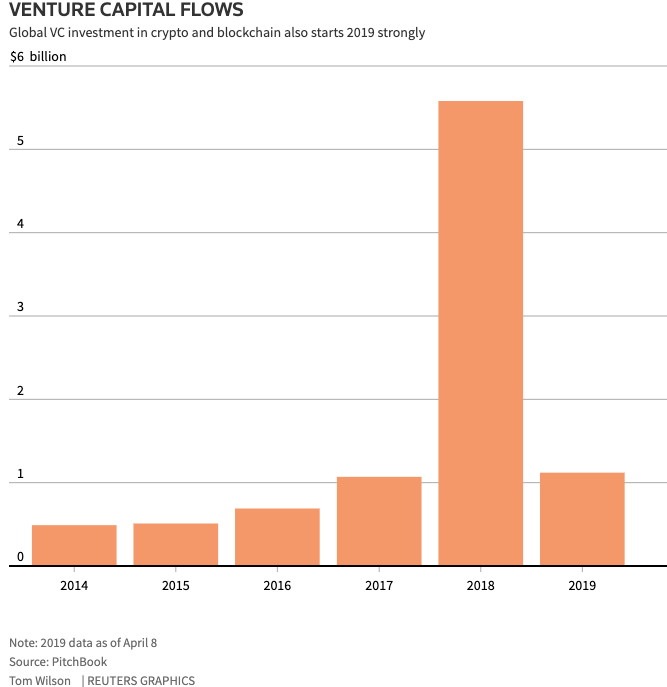 We can see that, even if the price plummeted during 2018, at the same time Venture Capital firms were pouring a lot of money into crypto startups. And the data say that around the $6 billion were invested in 2018 alone, and the trend is still going on in 2019. It's quite safe to assume that this is a very every stage market, and when this money flow bears some good results from 2019 to the years after, this will also reflect in the cryptocurrency prices. What do you think?
Chris
I think once you get everything from Andreessen Horowitz investing in Cryptokitties through to multiple Coinbase acquisitions (see Paradex and Earn) combined with Bakkt & Fidelity coming, 2019 feels like an extremely positive year.

Aside from increased VC investment, I think it's worth referring to actual volumes. In 2019 we already topped the trading volume we witnessed in 2017 at the peak of the bull market. In fact, BTC exceeded 10B volume every single day in April. Binance seems to be flying at the moment too.
Ruben
Yes, absolutely. Speaking about Binance, my next question is about their Launchpad. During 2017 ICOs gave a strong impulse to the price growth, do you think that Initial Exchange offerings can be a similar catalyst for prices in 2019?
Chris
Despite being in Crypto for a few years both passively and actively, I've still never participated in an ICO and missed my first IEO with BitTorrent, so I'm not hugely experienced in this area. I did, however, enter BTT within the first few days and did particularly well from it as it did a 3x in 2 days, but has now dropped to all-time lows which is not fun if you did you get caught up in a frenzy and bought the top.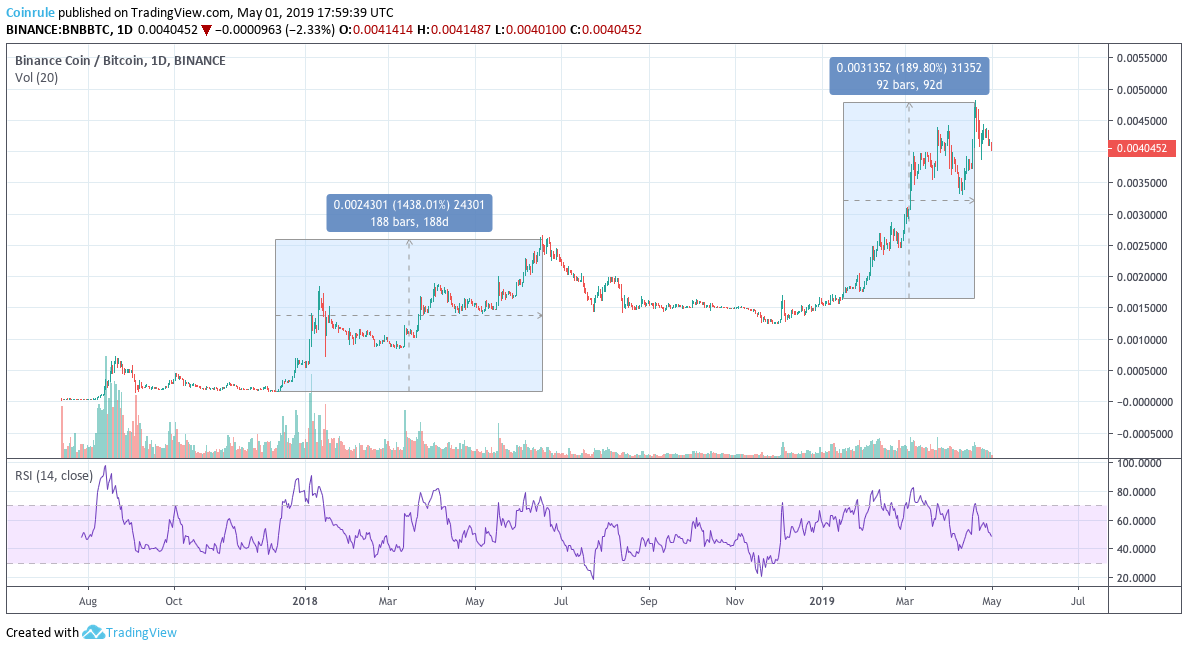 I think IEOs is one element that will help BNB, but in general, Binance seems to be doing an all-around decent job and like that their CEO CZ has a personality too. Binance Coin has had amazing performance, it's continued to increase through the whole bear market by a factor of X.
There's been lots of talk of hedging strategies for bear markets, with stablecoins being an option to sit out of the market but without converting back to Fiat. Imagine if you'd held a proportion of your profits in BNB instead.
I'd never recommend chasing green candles though, and given Binance's continual great performance it's a fair assumption it will retrace at some point.
Ruben
For sure BNB is one of the most impressive coins on the market, apart from technical analysis-based consideration, they are really pushing up the technology development and the DEX, as you were saying, is one of their big work-in-progress things.
Another hot topic these days is the Bitcoin Satoshi Vision "saga". There is a lot of gossip on the news, but that also translated in a lot of volatility. And we know that volatility often brings excellent trading opportunities, what do you think?

Chris
I know a fair few traders who are into knife catching, and it can be very profitable. I will only do it for projects that pass fundamentals, and I believe in (BSV definitely isn't one of those!).
It's risky in my opinion, the coins that experience large and sudden drops are often due to bad news, which could be FUD or a project in serious trouble. Crypto is volatile enough as it is, so trying to catch these projects at the absolute bottom isn't a strategy I use or would recommend.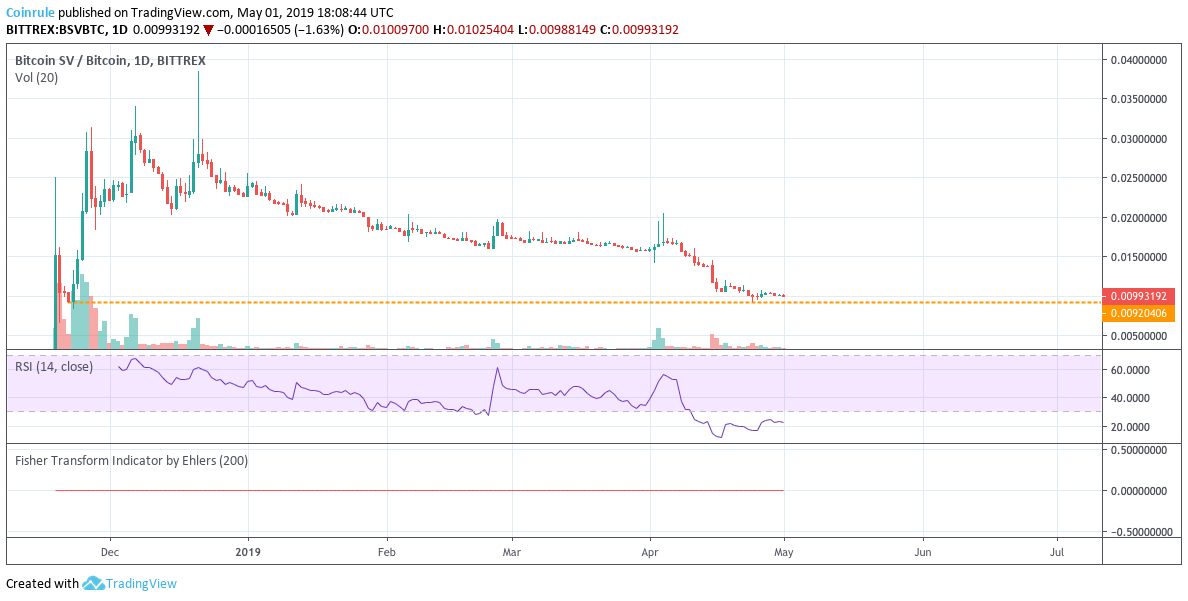 I've used indicators like Fisher transform which can be useful for identifying reversals or local bottoms, and when used alongside previous support levels can give some extra confidence for trading entries. My set up is on 200 periods so for coins recently listed that are not available yet.

Ruben
I would add that this is a typical situation where the trader has to make proper risk management valuations to prevent significant losses. It's also essential to consider supports and resistances, but on the other hand, they could lose their utility if market conditions change radically.
I really appreciate the fact that you showed the Litecoin chart right after the Bitcoin Satoshi vision's one.
Often we see many charts that have all the same downtrend pattern, just like BSV, but, for me, the most interesting coins are those that have entirely different patterns, because very likely that means that something is going on about that coin and there I think you can find the best opportunities. Speaking of that, another coin that really stands out is Basic Attention Token, which is among the best performing cryptocurrency in the top 20 for weeks now. We also posted a bullish trade idea about BAT last month, that would have performed quite well!
We will talk about this in the future, and we'll see how this will evolve because I'm confident these are exciting times in the crypto market so very curious to see how everything will turn out in the coming weeks
Chris
Litecoin is interesting, as it's been leading Bitcoin movements for a while now so can often be used for a heads-up on BTC movements if you are watching on a smaller timeframe. On my most recent trades, Litecoin has outperformed BTC by around 2.5x, which isn't bad considering it's a top 5 coins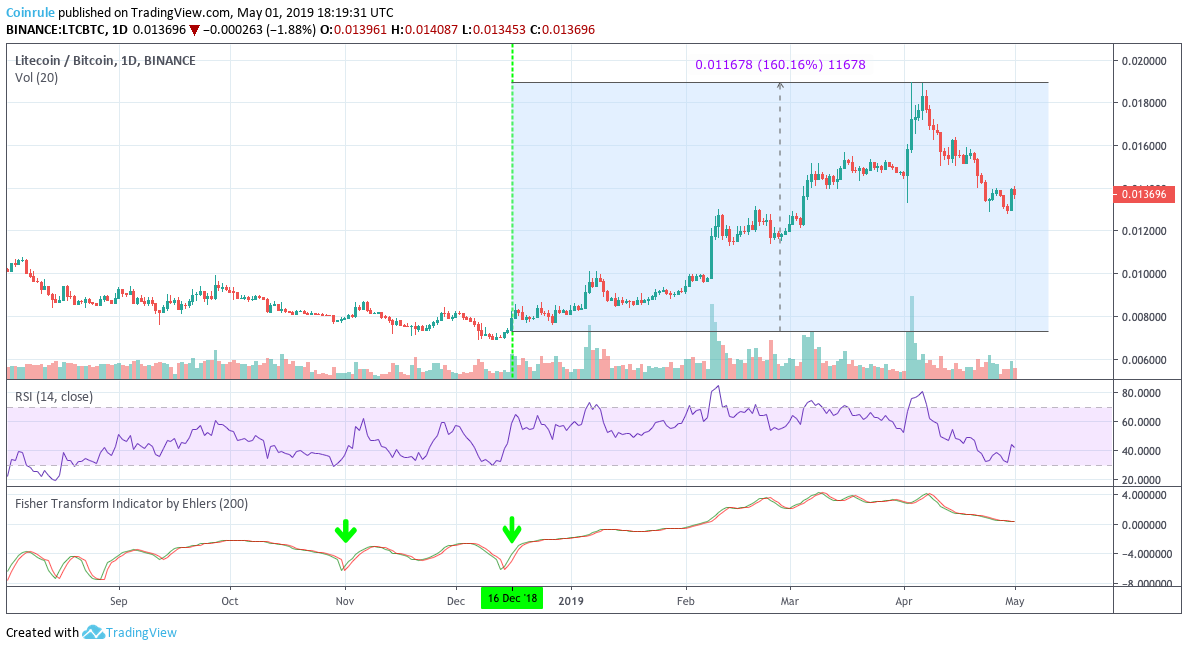 Going back to the Fisher Transform Indicator, I bought Litecoin on December 16th due to a double bottom of the indicator. Clearly, that was a good entry.
Ruben
Thank you so much for your time, Chris. That was fun. We should do it again!
Chris
Sure, cheers!