✅ Our brand new rule page is finally here! 💯
We have been gathering the feedback of our community for months, and we have been closely in touch with our most active traders so that their needs could shape our platform.
This new release is another significant step towards our goal to become the best way to build an automated crypto trading strategy. We included many improvements and new features but sticking with our core principle of being the most user-friendly trading platform out there.
What's new?
The most important news is the introductions of 5 Operators.
What is an Operator?
An Operator represents a logical connection between different blocks of the rule, so it will be easy to create more advanced trading strategies.
THEN and ANY TIME
You can use these operators if you want to relate two actions directly. For example, first, you buy and THEN sell that coin or vice versa. These options are very useful to create a completely automated trading plan that doesn't require further actions from your side after launching the rule.
The difference between THEN and ANY TIME is the timing of the second action compared to the first one.
THEN implies that the two rules happen in sequence. In the following example, after the first execution of Action A, the next execution of that action will happen only when Action B has been completed as well.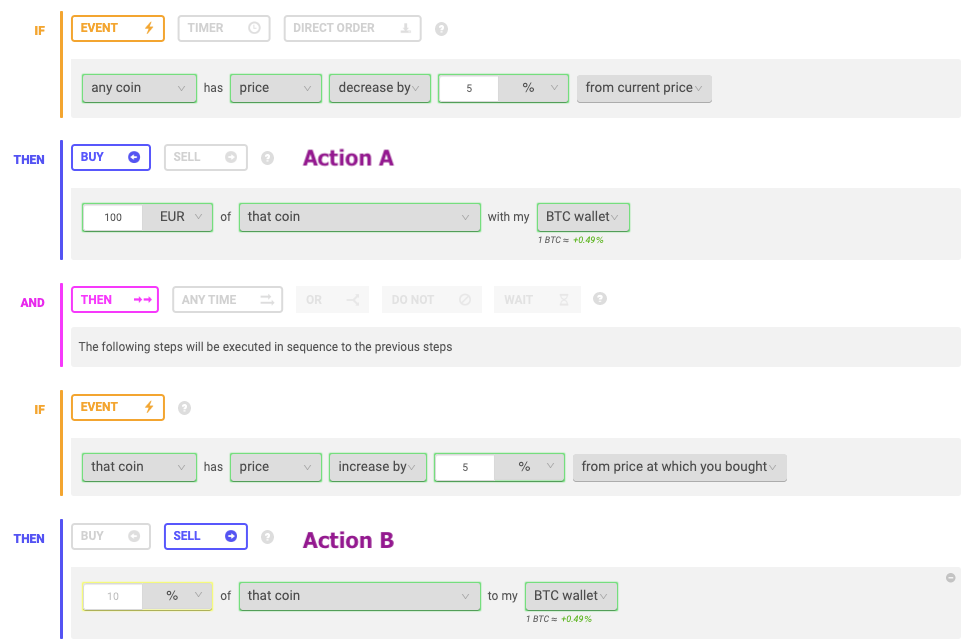 That works perfectly when you are trading within a price range. You want to buy when the price is low and sell when it reaches your target.
If you use ANY TIME, instead, Action A doesn't need to wait for Action B to be executed again. The bot will check Condition B in parallel to Condition A.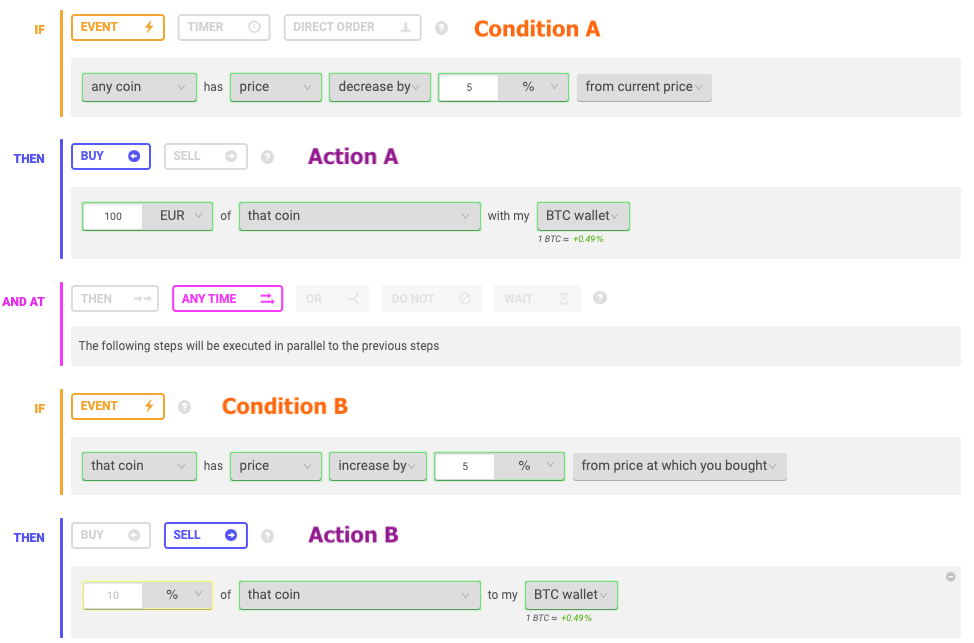 An example of a rule where this Operator is more appropriate is to accumulate a coin and then take profit on each trade when the price condition is met.
OR
You can use this Operator to create an alternative action compared to the previous one. Creating two conditions, the first of the two that is met will trigger the connected order.
For example, you are waiting for the price to break out from a trading range. You can set two conditions to buy or sell depending on the direction that the price will take.

This Operator is also particularly handy to set up a stop loss and a take profit at the same time on your trades. Your orders are always protected, wherever the price heads to.
DO NOT
There are situations where you don't want to trade a specific coin. Maybe you don't want to sell a coin you are holding as a long term position, or you don't want to buy a specific coin you don't trust.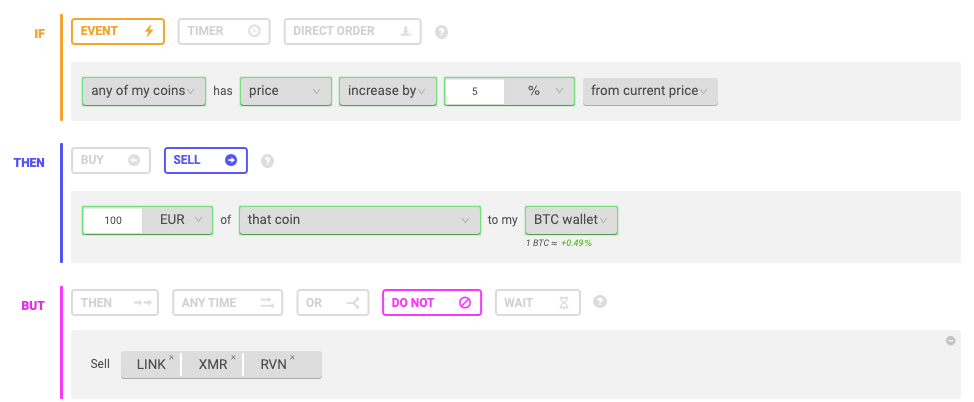 You have greater control of the coins the rules buy or sell thanks to this Operator. After each action, you can decide to exclude the coin you don't want to trade.
WAIT
You can use this Operator either between two conditions or two actions.
It can be useful to check how the market evolves after a certain condition is met. It's not rare, for example, that the price sees a strong move in one direction, only to pull back or bounce in the other. You can avoid this scenario, building a rule that takes into account a price confirmation before taking an action. It's very simple:
Wait for the market to stabilize after the breakout and then, based on where the price headed next, decide whether to trade or not.
More Template Strategies
Adding these Operators to your rules gives you the possibility to create endless strategies. We also upgraded our template library with more rules to get started.

More rules means more opportunities! 🚀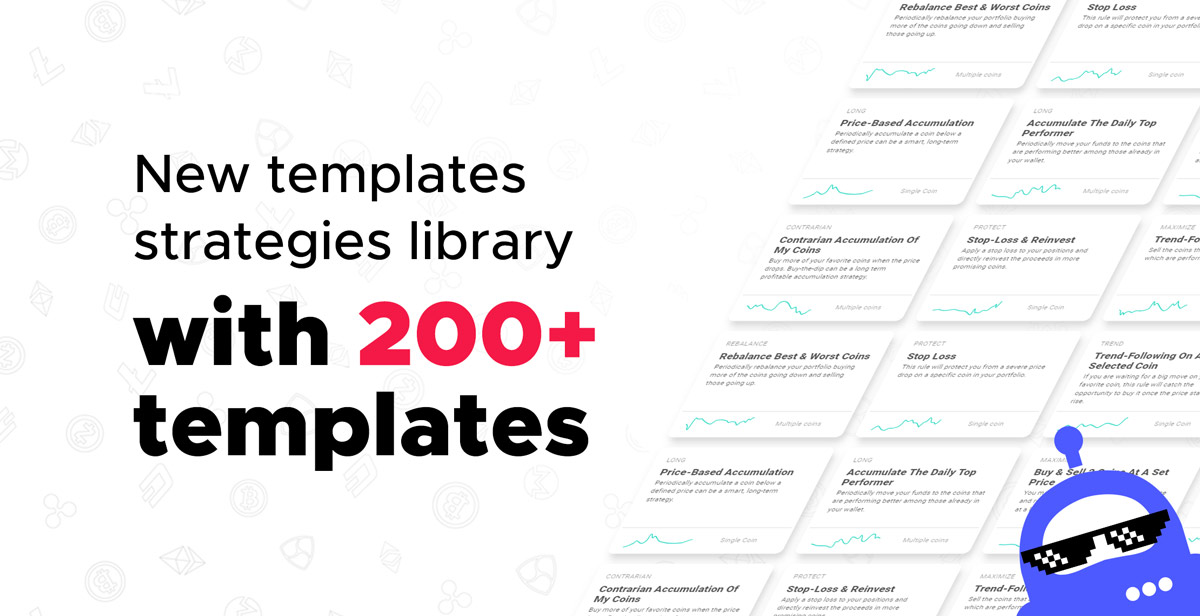 You don't have the perfect trading strategy in your mind, yet?
Use our Templates to get started. Browse across the categories and find the rule that fits your needs!
It's now the time to create your best trading strategy ever with Coinrule.
Trade safely! 🔒